File Uploads and Attachments
Uploading files to Toodledo and attaching them to tasks is a convenient way to keep all of your project data in one place. Toodledo allows you to upload up to 50GB of files (depending on your subscription) for safe keeping and easy access. This is enough storage for 500000 text files, 100000 images or 10000 large project files.
You can also attach any of your Lists, Outlines or Notes to your tasks.
This functionality has been created especially for our Gold & Platinum Subscribers. You can quickly purchase a subscription, or extend your current subscription on our upgrade page.
Managing Files
You can upload, download, delete and view all of your files on the Files page (see image 1), which can be accessed from the "Organize" menu at the top of the screen.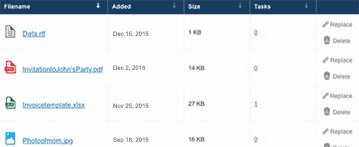 1. List of files uploaded
Clicking the filename will download the file to your computer. Clicking the icon will remove the file from any tasks that it is attached to and then delete the file.
This page will also indicate the portion of your file storage quota that you have used. Once you reach your quota, you will not be allowed to upload any additional files until you delete some files to make room. We expect that very few people will actually exhaust their quota, but if you do, please contact us and we can work something out.
Filenames do not need to be unique. If you upload a file with the same name, you will have two files with the same name. To replace a file, click the icon and upload the replacement file.
Attaching Files to Tasks
If you have a Gold Subscription, you will notice an additional icon displayed adjacent to your tasks. This is the attachment icon and it indicates that you do not have any files attached to this task. Once you have attached a file, the icon will change to this (see image 2).
2. Files attached to tasks
3. Attaching files to a task
Clicking on either of these icons will open a box that will allow you to attach, upload or download files (see image 3).
Clicking the
icon will detach the file from the task, but it will not delete the file. The file will still be available for attaching to other tasks. To permanently delete a file, you must visit the main Files page.
Attaching Outlines, Lists and Notes to Tasks
3. Attaching outlines to a task
You can attach Outlines, Lists and Notes to tasks in a very similar way. Click the "Outline", "Lists" or "Notes" icon in the attachments popup and then select the item that you want to attach. You can also create and attach a new blank outline, list or note.
Expiring Subscriptions
If you allow your Gold Subscription to expire, you will no longer have access to your files. You will be given a 30 day grace period in which to renew your subscription and regain access to your files. After this grace period, your files will be deleted.