Workspaces
Workspaces are a feature that allows you to give other people permission to manage your list. They can sort, filter and search through your to-do list, just like you can.
You can use workspaces with anyone who has a Toodledo account, but only other Subscribers will be able to add or edit your tasks (if you let them). If your collaborator has a Free Toodledo account, they will only be able to read your to-do list.
If someone has shared their tasks with you, a menu will be added to the page below your login, called "Workspace". See Figure 2
When you click on this menu, you will see a list of collaborators that have given you access to their workspace. Selecting a collaborator reloads the page with their tasks instead of yours. You can sort, filter and search through your collaborator's tasks just like you could do with your own.
To switch back to your tasks, you can return to the "Workspace" menu and pick "Me".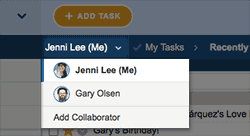 Figure 2: Viewing other people's tasks
Adding and Editing Tasks in a Collaborator's Workspace
Before you can add a task to someone else's list, they must have given you permission to do so. Assuming that they have, there are two ways to give them a new task.
Adding Tasks: Method 1The first way is to go to their task workspace See Figure 2 and click the "Add Task" button. From then on, it is identical to the way that you would add a task to your own list.
Adding Tasks: Method 2The second way is to click the "Add Task" link when viewing your list, and then choose your collaborator from the "Assigned To" field.
Editing TasksIf your collaborator has given you permission to edit their tasks, you can do so just like you would edit your own tasks.